After a five year break the popular Tote Ten to Follow game is making a very welcome return for the the 2019/20 Jump season.
The game launches on Wednesday 20th but if you register your interest today you could win two tickets to Gold Cup Day at the Cheltenham Festival!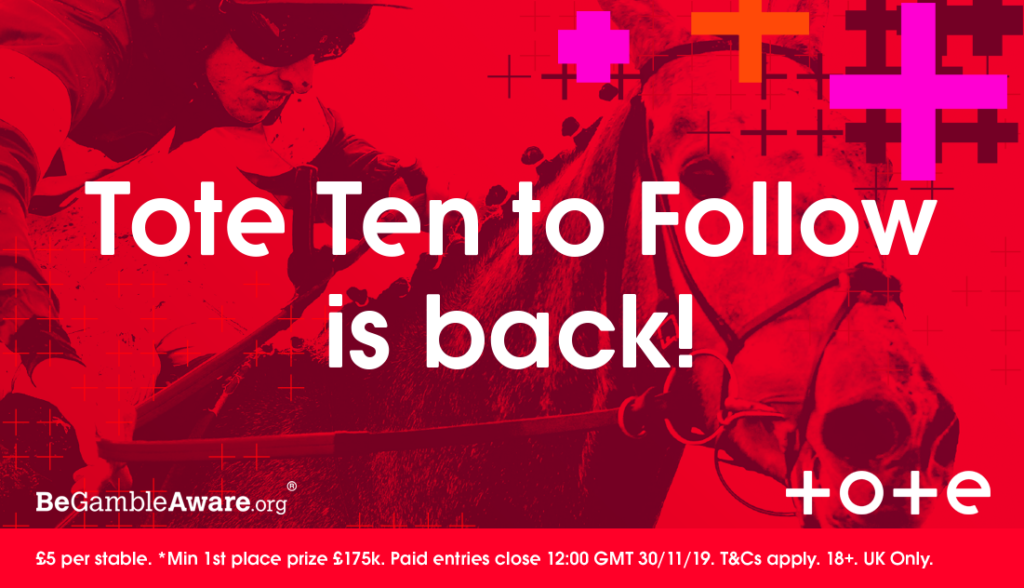 How to Play the Ten to Follow
You create a stable by selecting 10 horses from a list of over 500 put together by the Racing Post. These horses then score points every time they win, or are placed, in a race. The 100 stables with the most points at the end of the season get a share of a prize fund which is guaranteed to total at least £250,000! with first place being worth at least £175,000!
There are bonus races that score extra points and also prizes of £10,000 for the stables that score the most points in each full month of the competition. More details of how you score points can be found on our Ten to Follow page.
Each stable costs £5 to enter and you can play as many times as you wish. There will also be a free to play version of the Ten to Follow with a £10,000 prize.
The Ten to Follow is run as a pool, like all the other Tote bets, so the more people that play the larger the prizes will grow. If there were 200,000 entries then first place would be worth over £600,000! If there were 400,000 entries it would swell to over £1.25 Million! So make sure you tell your friends.
"We have been delighted by the positive response from racing fans to the return of Tote Ten to Follow in a new modern format. With £250,000 of guaranteed monthly and season long prizes to play for, we hope the new Tote Ten to Follow will be as popular as before."

Mark Kemp, UK Tote Group Managing Director
Register your interest with Tote to be the first to hear when you can create your stable. You only need to enter your email address and if you do it now you could win two tickets to Gold Cup Day at the Cheltenham Festival!
Are you looking forward to playing the Ten to Follow or have memories from previous runnings of the Ten to Follow? Share your thoughts in the comments below.
Cheltenham Competition closes at the end of Monday, November 18th. Full details on the registration page.